Venue for the festival
| | |
| --- | --- |
| | Oktabrsky |
Oktabrsky is placed on southwest of the Gomel region. It is created on June, 28th, 1939. The area makes 138 thousand in hectare. The population - 20,6 thousand persons - in a countryside. The centre is the city settlement Oktabrsky on the river Neretovka (inflow of Ptich). The area territory is administratively divided into 8 village councils in which there are 77 settlements.
In this territory the republican biological reserve "Oktabrsky" is placed, 10 rivers flow, including Ptich, Oressa, Tremlya, Neretovka, 10 main channels, 62 % of territory cover woods: coniferous and coniferous-deciduous, oak-hornbeam groves. Total area of bogs - 14 thousand in hectare. Here cranberry-reserve "Pritvor". Oktabrsky land rich on: oil, potash and stone salts.
Difference and uniqueness of our monasteries from other places of Belarus mark all, who for the first time visit Rudobelshchinu - Oktabrsky.
The first settlements in area territory date to bronze age. Monuments of material culture iron age are found here too. In early iron age here were settlements Milograd's and Zarybens' cultures. Are found barrow-graves about villages Meduhov (farm Buneva), Maiseevka, Razhanov, Garohavichi, Haromtsy, Cherhie Brodi, Oktabrsky on appearance is possible date to XI- XIII centuries. Settlement about villages Volosavichi and Majseevka could be processed by the person in a current of iron age and the Middle Ages.
In VIII-IX centeries the area territory was occupied by east-slavonic tribes. From the end X century Oktabrsky as a part of Turovsky princedom. From the end XIII- the beginning XIV centeries Oktabrsky as a part of the Big princedom Lithuanian. After Lublin union 1569 Oktabrsky as a part of Rech Paspolitaya. The village Rudobelka (Red Squirrel) from the middle XV centuries repeatedly surrendered in rent to large magnates of the Big Princedom Lithuanian (to Nikolay Rodivilu and its descendants). After the second section of Rech Paspolitaya (1793) - as a part of the Russian empire. Approximately the same years lieutenant Dominik became owner Rudobelki and the villages nearest to it. His descendant - Michael Lapa- for participation in revolt has been deprived 1825 the possession right. The estate has been sold to baron Vrangelju. In 10 years after that an estate transfer to major general Lilienfeldu. The wife of famouse commander, the highest court yard of Ivanenka, was last owner Rudabelki.
The site of Rudabelka has defined character of local residents, their employment, culture. By the way notice that on the Oktabrsky land lived and live people different nationalities:Byelorussians, Russians, Poles, Ukrainians, Jews, Latvians. Different nationalities, transition from one political system to the second have defined faithes of people. In territory of Rudobelsky volost operated and operate both Orthodox and Catholic churches.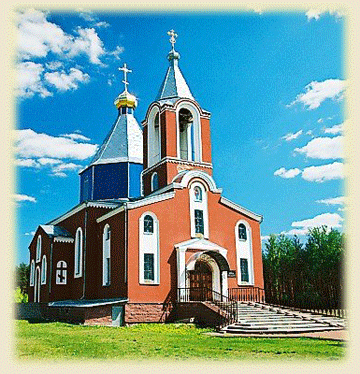 As the integral part of material culture of a folk art of Rudobelshchiny long since had mainly decorative-approximate character. Wicker basket from straw, a wooden ladle, a woven linen towel, a clay jug - all it were for use in a household.
National masters used cheap and easy materials: a tree, clay, flax, a wool, straw. Good taste and the experience developed by centuries have allowed to create from this material of a product which do not concede the qualities, to products from expensive material.
When to stop on architecture those time, the best examples of skill will be: wooden gate on country churchyards in the village Haromtsy, constructed by local masters. (Gate are a monument of national architecture, unique in Belarus). Here is a park on east suburb which is a monument of estate - park ensemble in XIX centuries.
The ancient name of Rudobelka with which many legends are connected, the considerable events which have become as historical memory. New reality has made its. As a result of association of Rudabelki, Karpilovki, Mines it is created Oktabrsky. About events of 1917-1918 in Rudabelka we can't say better then Grahovsky in his story "Rudobelsky republic".
In the first days of the Big Patriotic War in area territory the destroying battalion has been created, organizers and commanders of it, were Bumazhkov and Pavlovsk by which, by the way, the first of all partisans the rank of the Hero of the Sovetsky Union has been appropriated.
From autumn 1941 till January 1944 the area was included into the Oktjabrsko-Ljubansky guerrilla zone. In its territory all bodies of the Sovetsky power operated, schools worked, stood out newspapers "Zvesda","Narodnij mstitel". Fascists called Oktabrsky "the second Moscow". Only once during war, in April, 1942, fascists have entered in Oktabrsky. The burnt villages of area which more were not restored became as a result of it: Vezhin, Gatok, Kolbik, Perakale, Settlement, Smalovitsa, the Fog, Haromnae.
In territory of Oktabrsky in 1944 tankmen Buhtaev and Kamarov, the set fire car rammed and have put out of action an armored train. It is necessary to notice that it is a unique case such ram attack in the history of the Big Patriotic War.
Roman Sergey, ordinary guards, during break of protection of the opponent in village Pruzhinishchi has repeated Alexander Matrosava's feat: has closed itself embrasure of dzot.
After deliverance, area territory was as a zone of an awful devastation. The industrial enterprises have been completely destroyed. 18 villages are burnt. The property of collective farms has been broken off. Does not remain technicians. Because of shortage of horses and tractors as draught force on spring crop, cows were widely used. Ploughed on itself. To autumn of 1944 in area all collective farms have been completely restored. In the end of 1960 in area land improvement has begun.
But not only the work has glorified region in those years. In village Krastnaja Slobada there was a national chorus. Young girls, participants of chorus are beautiful, have received many awards for the skill.
After failures on Chernobil APC, Oktabrsky region has accepted 2,5 thousand immigrants from Narovljanska and Bragin. For them in village 800 houses are constructed. And that only in village. In Oktabrsky - it is micro district "Meliaratar", settlement Naravlyansky and one hundred building for people in the first micro district.
In 1990 work brisk up of the folklore, traditional crafts, ceremonies, holidays in Oktabrsky became more active. The good stuff has been extracted during expedition of the Minsk institute of culture, department of a choreography of Republican university, the Gomel regional scientific-methodical centre of culture.
Beautiful and original monasteries of Pripjatsky Polesye. As anywhere traditions here have remained. In particular wide dissemination in territory region have received products of national masters from a tree which attract attention the plasticity, sculpturesqueness and integrity of the form. Very popular kinds of a folk art of region is weaving. Now products of national masters are enriched by wider color gamut, their form becomes complicated, new methods, processing receptions materials. Appreciably are applied the folk art now revives, there are new kinds of art creativity.
The history of region is created by people. In Oktabrsky were born a lot of talents. It is the professor, a member of the Union of artists of Belarus,laureate the State award of Belarus Drobov Leonid; writer, poet, deserved art worker Pravasud Vladimir; the poet, a member of the union of writers of the USSR Smagarovich Mark; the Jewish poet Liushits Mendl; the deputy minister on affairs of Commonwealth of the Independent states of Belarus Shaladanov Vasily; the deputy of the Supreme body of 12th convocation Vladimir Golubev and many other.